A three-day retreat with Shaun Galanos on letting go, opening up, and being more playful.
January 5th to 7th, 2024 in Sedona, AZ
A LOVE CAMP RETREAT IS...
An in-person three-day retreat hosted and facilitated by me, Shaun Galanos, for people who want to deepen their capacity for letting go and going deep. Think of it as a day camp on love for adults.
During this unique retreat, we'll work on the stories keeping you stuck in the past, explore how to be more vulnerable in your relationships, and bring more play to your life.
You'll connect with other like-minded and hearted people in a magical setting.
If you're ready for a challenging, authentic, and fun way to grow, gently stretch your comfort zone, and write the next chapter of your life, join us.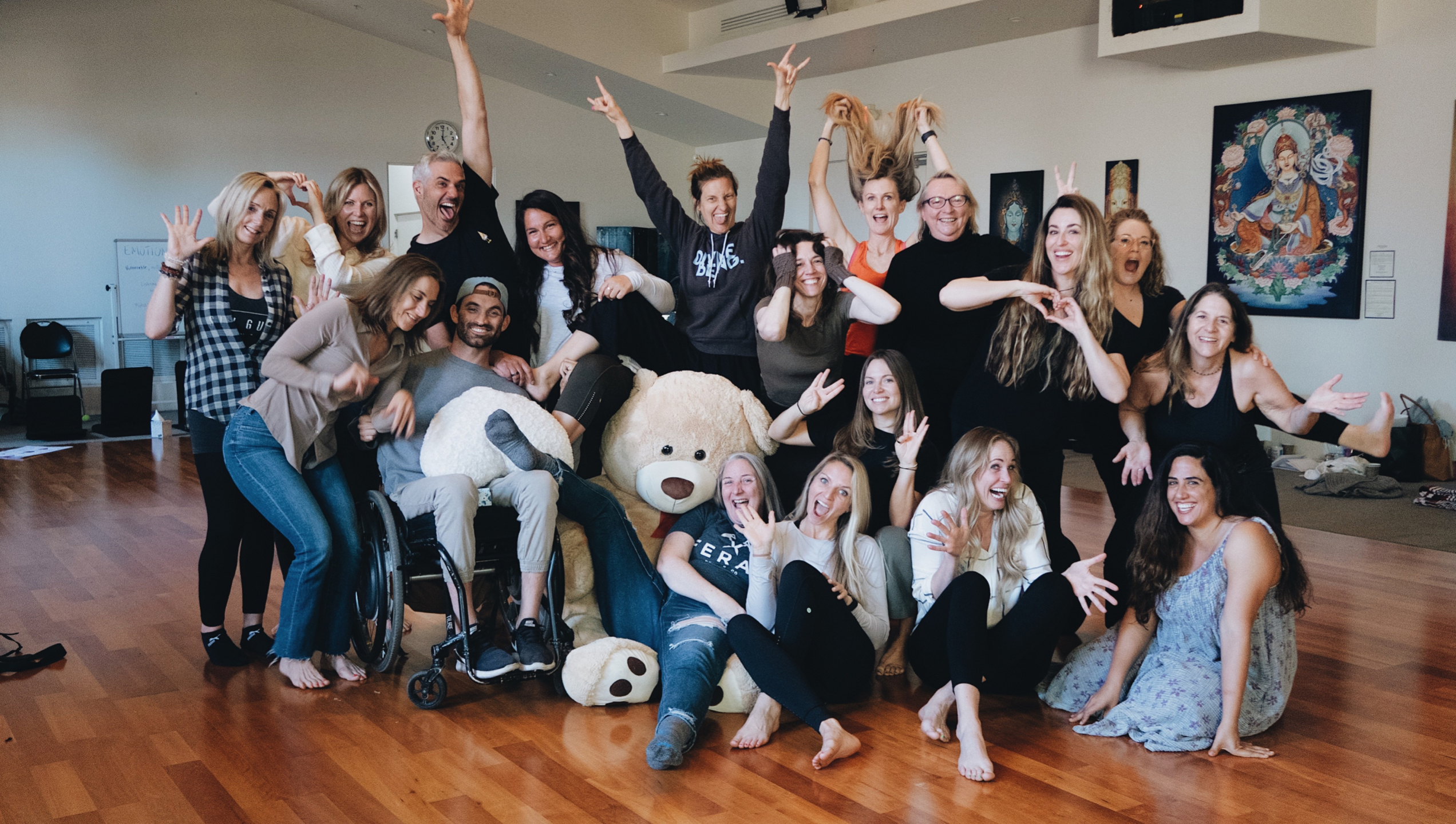 LEARN TO LET GO AND OPEN UP 
I've learned over the years that it's all about letting go and accepting.
Letting go of what you thought your life would look like. Letting go of other people and their expectations of you. And letting go of the stories that keep you small. 
And accepting. 
Accepting that you have loss, heartbreak, and disappointment in your life. Accepting that you're not exactly where you want to be right now. And accepting that you're a beautifully flawed human being and doing your best. 
In this retreat, you'll learn to let go of the past to make space for something new, exciting, and more aligned with your desires. 
And you'll do it all while having fun, connecting with like-hearted people, and being supported by a loving container.
LIVE GROUP COACHING AND
Q & A WITH SHAUN
Q&A discussions with Shaun, group coaching, and tools you can use to improve your relationships; all your questions answered.
DEEP DIVES ON LETTING GO AND OPENING UP
We'll go deep into what it means to let go, open up, and be more playful in life.
It's a (love) camp, after all!
A SAFE SPACE TO CONNECT  EMOTIONALLY
Join us in magical Sedona, Arizona, for three days of connection, nature, and heart-opening community. Don't be shy, join us. 
IN THIS THREE-DAY IN-PERSON RETREAT IN SOULFUL SEDONA, ARIZONA, WE'LL WORK THROUGH THE FOLLOWING QUESTIONS:
➜ How can I start letting go of the stories holding me back, and what does letting go look like?
➜ How can I open myself to being vulnerable without getting hurt?
➜ How can I begin to see rejection as liberation rather than devastating? 
➜ What does being more open look like, and how can I begin to open up to kind, loving people?
➜ How can I stop playing small and start taking up more room in life?
➜ How can I bring more play to my life and learn to dance with life's challenges?
THIS IS FOR YOU IF YOU:
➜ Are ready to let go of unhelpful stories to make room for more beauty in your life
➜ Are ready to feel worthy of love and accept parts of your life that are hard to accept
➜ Into personal development but don't take yourself too seriously or would love to learn how not to
➜ Are ready to take responsibility for your life and the direction it takes moving forward 
➜ Need to step away from your daily life and reconnect with a fun, loving, and playful group of people
➜ Want some gentle, loving guidance from Shaun (and maybe a smidge of tough love) 
MEET YOUR LOVE CAMP COUNSELORS
I'm Shaun Galanos, Love Coach, Goofball, and lead camp counselor
Years before I made love my career, people brought their messy relationship issues to me: when to define the relationship, how to know if they like me, how to ask for what I need, etc.
Though I gave excellent relationship advice, I struggled to form healthy relationships. I fumbled through one after another, often bringing more pain and confusion than love and joy. 
My struggle with healthy relationships and alcohol addiction brought me to therapy. For the first time, I found a therapist I connected with and began the journey to healing my fear of intimacy and my confusion about love. 
It sounds simple, yet it took time to learn how to do it, so I returned to my roots as a relationship-advice giver to teach others what I'd learned (and am still learning) about love, intimacy, and building healthy, loving relationships.
I've interviewed over 100 experts and thought leaders in love with The Love Drive podcast. I became certified as a rape crisis counselor to support women's healing journey after abuse. And I obtained coaching certifications to deepen my understanding of how to serve my clients best.
After thousands of happy students and hundreds of happy clients later, I'm starting to get the hang of it! (Though I'll always be a forever student of love.)
Opening yourself to love, learning to trust again, and building a big and beautiful love is not easy work, so I've created a space where we'll do it together.
Let's make sense of it all and give you the skills to navigate relationships with clarity, courage, and confidence.
I'm Christen Poole, a relationship coach, photographer, and camp counselor
Christen Poole is a talented, creative, open-hearted divine being who firmly believes creativity and play are the keys to a well-rounded, fulfilling life.
She has dedicated the past decade to pursuing healthy relationships through honest communication, authentic self-expression, and consistent personal growth work.
A yearning to connect to herself and others more deeply led her to the subtle magic of cacao. She holds regular sacred circle ceremonies to honor this potent plant medicine. Through daily rituals and creative exploration, she has completely reinvented herself and her engagement with life.
Christen is honored to facilitate this workshop as she truly recognizes the transformative power of safe, supportive spaces where all can be witnessed and energetically held. Healing happens through the heart and connection. You can find her at @_divinebeinghuman_ 
I'm Bonnie Weeks, yoga teacher, people lover, and camp counselor
I have a fierce love for people.
I've been described as a Lightning Bolt.
Yoga students say I'm The Velvet Hammer and help them feel big in their body.
Three teenagers call me Mom.
Some friends have named me their Sex Shepherd. 
Random internet people call me Authentic and Brave.
People come to me and feel permission to create and share their real selves.
I like it when people say I feel just as real in-person as I do online. That's my goal.
I'm here to amplify people.
Find me @carrot_bowl_bonnie
WHAT'S SO MAGICAL ABOUT SEDONA?
Some call Sedona, AZ the most spiritual place in North America. It's known for its energy vortexes, surreal and colorful red rock sandstone formations, and stunning desert views.
It's also a great place if you want to pamper yourself with spa treatments, visit amazing restaurants, and explore the plethora of spiritual experiences that Sedona has to offer.
To me, though, it's simply a gorgeous place to reconnect to nature through hiking, mountain biking, and finding creeks to jump into.
While your accommodations aren't included in this retreat, there are dozens of fantastic options nearby for every budget. Here's a list of accommodations to start doing a little research into the kind of experience you're looking for.
OUR RETREAT SPACE
The Sedonya Conscious Living Center in West Sedona is the perfect venue for this event. While on the more hippy side of life, we'll be infusing it with lots of loving presence, grounding exercises, and a healthy dose of playfulness!
We'll do most of our gathering in the Cathedral room and we'll also have access to the beautiful outdoor grounds for eating lunch, taking breaks, and connecting with the other retreat-goers.
Join us; I think you'll love it.
THE FULL DETAILS  
Dates:
Friday, January 5th to Sunday, January 7th, 2024
 What does
 it cost?
Early Bird: USD 1,699 until December 1st

Regular Bird: USD 1,799 after December 1st
How big is it?
The event is limited to 25 people. 
What's included:
2.5 days of live coaching, connection, Q&A, teaching, laughter, and memory-making with Shaun

Breakout groups to connect with your cohort

Delicious organic plant-based lunches

All-you-can-drink tea, coffee, and Kombucha

Outdoor adventure therapy (sunset hike in the mountains of Sedona) and gentle movement practices (yoga play)

A heart-opening, high-powered chocolate experience

Sound healing and breath work experience

High-res photos of the event!
What's not included:
Where is the event?
Sedonya Conscious Living Center
120 Deer Trail Drive
Sedona, AZ, USA 
86336
THE SCHEDULE
Friday | 1 PM - 6 PM
Opening Circle

Introduction and Connection Time

Sunset hike and meditation/movement therapy

 
Saturday | 9 AM - 5 PM
Connection exercises, talks, and breakout groups

Yoga/Movement Play

Lunch

Workshop, breakout groups, and Q&A

 

 
Saturday | 7 PM - 9 PM
Sound Meditation Experience
Sunday | 
9 AM - 5 PM
Silent Chocolate Experience and Mandala Making

Workshops and breakout groups

Lunch

Breathwork Experience

Closing Circle
*Subject to change based on group flow and needs.
LOVE CAMP RETREAT | SEDONA, AZ | JANUARY 5-7, 2024
$1699 UNTIL DECEMBER 1
$1799 AFTER DECEMBER 1
JOIN THE RETREAT
Just in case you're wondering...
Is this just for single people?
Is this a replacement for therapy?
How interactive is the group?
What's your refund policy?
What other fees should I expect?
What's the deal with food?
How's the weather in Sedona?
I came here raw, wounded, and scared, but I leave open, joyful, grateful, and ready to build a life of big love. 
- ELLE
I found my voice and let go of any fear of judgment.
- SARAH
I'm walking away with clarity, connection, and more capacity for love. 
- ALLISON
I finally felt safe and loved by you all. A space to be free.
- OLIVIA
Shaun is one of the best facilitators...
- JAKE
Listening to Shaun speak feels like the comfiest blanket is cocooning me.
- JILLIAN
I got the gentle guidance and tough love I needed. Thank you. 
- AMY